Things to eat and drink when you get the chance, or as inspiration to cook at home. Where possible I've linked to recipes.
For general recipes, I cannot recommend [cached]Serious Eats highly enough, their recipes are very detailed and well tested. [cached]Kenji López-Alt is especially amazing, I love his scientific approach to cooking, and he has a great book as well, [cached]The Food Lab.
tea
I buy from [cached]Yuuki-Cha and [cached]Ippodo for green / Japanese teas, and [cached]What-Cha for black and oolong teas. See also my blog post.
alcoholic drinks
plum wine (umeshu, 梅酒)
sake, e.g. dassai
ice wine
eggnog
cocktails
Standard recipes and my own favourites. I recommend Liquid Intelligence and The Bar Book.
Cocktail Kingdom has great jiggers (large, small), strainers (julep, hawthorne) and shaking tins (top, bottom).
In the recipes below, "1 oz" can be whichever measure you have at hand, typically 25 or 30 ml.
Tenochtitlan: old fashioned with 1 1/2 oz cognac, 1/2 oz creme de cacao, 2 dash chocolate bitters, 1 star anise; build on large ice
Midnight Stinger: 1 oz bourbon, 1 oz fernet, 3/4 oz lemon juice, 3/4 oz simple syrup; shake with ice and serve on crushed ice
Gordon's Cup: amazingly refreshing, muddle 4 lime wedges and 4 cucumber wheels in as shaker, add 2 oz gin, 3/4 oz syrup and shake with ice; pour into glass with 4 fresh lime wedges and 4 fresh cucumber wheels, sprinkle with salt and pepper.
Mai Tai: 2 oz rum (I prefer dark), 3/4 oz lime juice, 3/4 oz contreau, 1/2 oz orgeat; shake with ice, serve on crushed ice.
El Toledano: strong marizpan vibes, 1/2 oz vodka, 3/4 oz disaronno, 1/2 oz orgeat; shake and serve in old fashioned glass, decorate with [cached]mazapan from Toledo.
sweet bites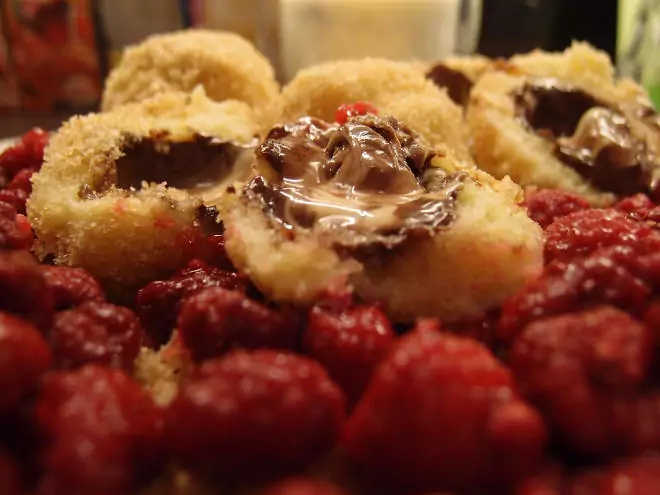 [cached]Mozartknödel (right), sweet dumplings filled with chocolate/nougat/marzipan
Pastel de nata
Dorayaki
Taiyaki
Yōkan (great with tea)
Warabimochi
fish
Preferrably raw, either as sushi (寿司), sashimi (刺身) or on top of a rice bowl (丼)
Tuna, especially fatty
Salmon
Eel (unagi)
Sea Urchin (uni), unappetizing at first sight, but absolutely delicous
Sweet Shrimp (amaebi, 甘えび)
seafood
Arròs negre
Grilled octopus
meat
Steak, medium rare
Jamón ibérico, Chorizo, Morcilla
Korean & Japanese style bbq (yakiniku, 焼き肉)
Chicken shawarma
stew & soup
breakfast
more
Okonomiyaki (お好み焼き), savory pancake
Croquetas
Pizza
rice bowls
bread
Vollkornbrot
Naan
Banana nutella crêpe